bcf / sa
buyer cash flow / sensitivity analysis
done-deal zone & starman ratings
---
30-day free evaluation copy available -- see below!!
a bcf/sa financial analysis can help find the right combination of price, down and terms to produce a structure that has over an 80% chance of selling.
an advanced financial analysis method that helps structure business sales, based on 13 years experience as a business broker and 9 years of actual business sales statistics
"comparable sales transaction are the recognized method to establish a reliable value"
. . . bizcomps online 1/5/00
"pricing is simply an attempt to arrive at a price that the 'market' might pay for the business . . . it is an approximation of what the business might bring in the marketplace."
. . . the businessbroker newsletter, nov 1999
---
done-deal zone map showing starman rating of a listing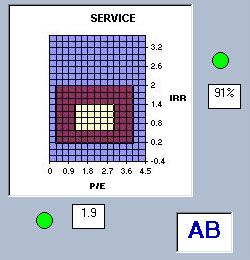 get a 30-day free evaluation copy and rate your own deals!! buyers, price your offer to buy.
download eval (800k). see below for more info on bcf and the done-deal zone
---
for detailed information and sample reports download our product description file with sample reports. these reports show the various alternative structuring for an actual business. the file is an .exe file (180k) so just double-click on it after saving to your directory. this will produce 2 files: the bcf_sa.doc and sample_bcf.xls files. they are office 97 word and excel files.
great! i'll download now.
for the latest updates and news relating to bcf/sa see our newsletter.
previous issues:
nov 1999
dec 1999
jan 2000
join our business information mail-list, a discussion group, open to buyers, sellers, brokers and other interested parties.
---
"innovative software solutions"
5419 e.piping rock road, scottsdale, az 85254-2952
602-996-3007/ 602-788-1922 (fax) / starman@starman.com